I have always toyed with the idea of setting up a discus planted tank, all of my other ones were bare bottomed so this time I wanted it to be different.
I knew that I would need a relatively large tank for this purpose and after a lot of patient waiting, found the one I was after.
A Rena 150cm(100 gallons). I received it in a bit of a state but after letting sterilising fluid soak in it for 48 hours, all the algae had disappeared and the tank looked like new.
March 2008
The tank is ready to start setting up.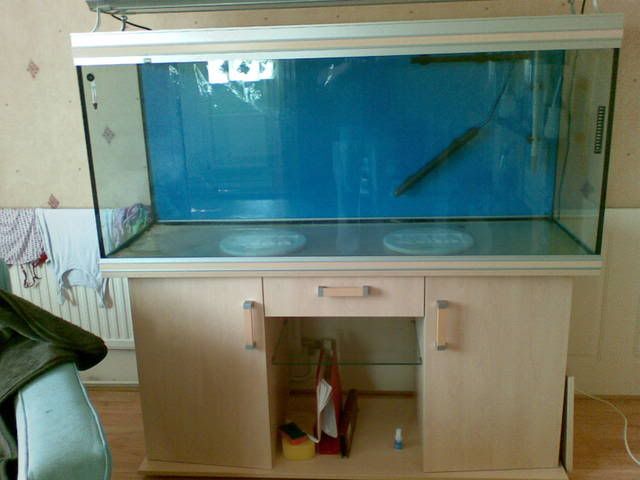 The luminaire is a 4 x 54 watt but I plan on running two plantgros and 2 actinics for evening viewing.
Night lighting is going to be added in the form of LED moonlighting that I used on my reef tank.
Filtratiion is supplied by one xp3 filter and one aquaone rated at 500 gall/hour
Heating is 1x200watt 1x300 watt(to be upgraded)
March 2008
The hardscaping is going in
2" 3mm gravel, rocks and loads of bogwood
Not being a plant expert I decided to plump for buying a discus collection to add to the tank
Having to wait a week for the plants to arrive the next job was to rig up the water filter. I intended to use purely HMA but when I tested it the KH was far too high( reading at 7 pH 7.6)) so the RO unit came into play.
With a 75/25 RO/HMA mix I ended up with the correct KH (KH3-pH 6.6)
April 2008
The plants have arrived, straight into the parcel and planned where they were going in the tank. 2 hours later they were all in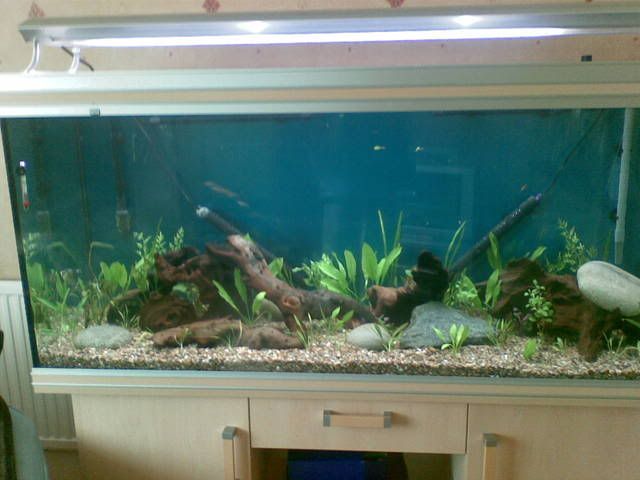 Not impressed the tank looks bare _(
I knew they would fill out in time but took the decision not to run a CO2 system as I was in no rush for fast growth.
4 weeks later( I wanted the plants to have time to settle) the first fish were added as the tank had cycled with the frozen prawn method.
The first inhabitants were 6 panda cories and a male Bristlenose.
June 2008
I decided that it was time to add the tetras, 10 glo lights and 10 cardinals.
Contacting a lot of old friends at this time to see if they had any fresh discus fry ready for moving on.
Bingo!!
One of my friends was closing down his fish house, the only snag was I had to take his last 25 fry, not a problem at the time as the discus were only 1" in size.
These are the parents of my discus
Left it for another couple of weeks and fetched my babies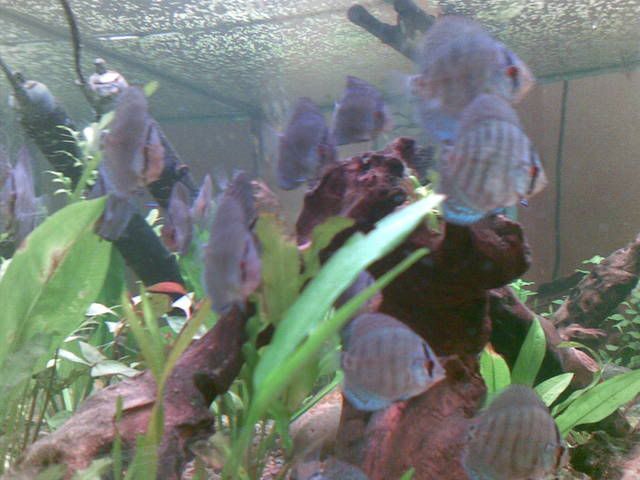 The plants took hold quickly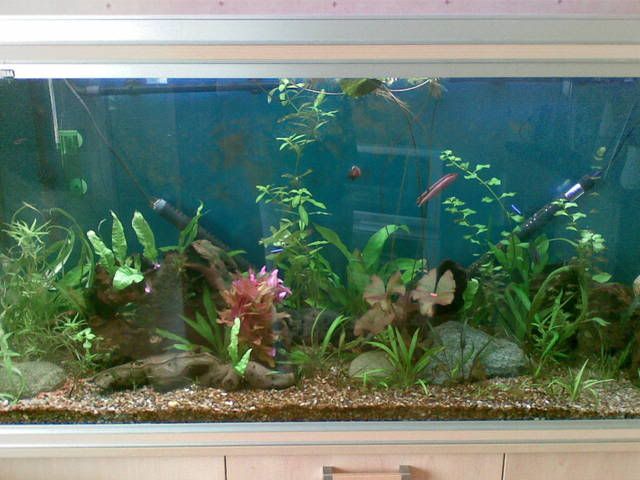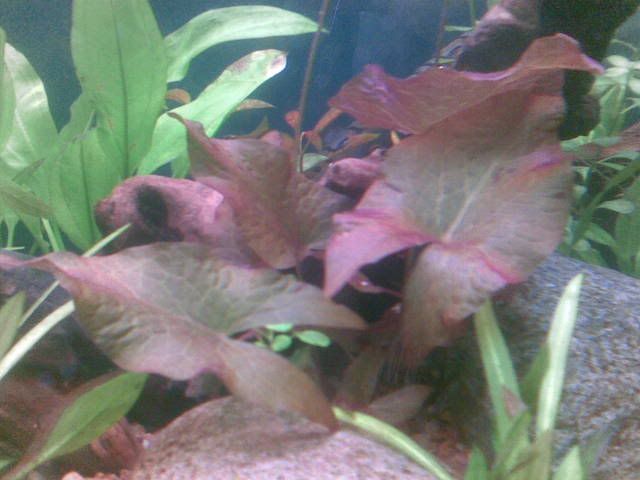 October 2008
The plants were now outgrowing the tank :)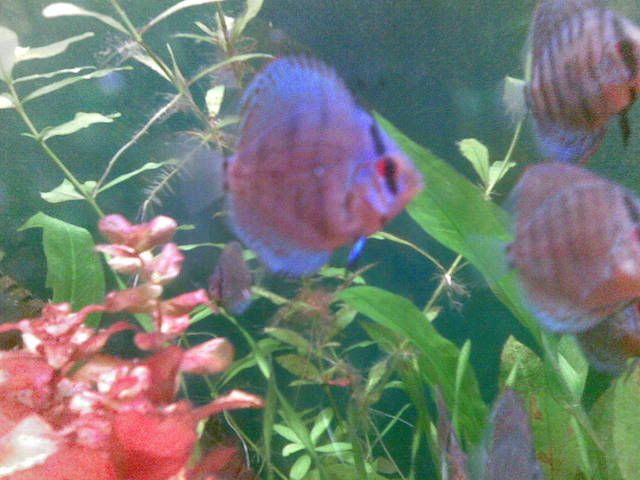 November 2008
I had to make a decision, the amazon swords at the rear of the tank were just getting too
big, they had to come out. I had already given the Lotus away to a friend as it was taking over the tank.
Removed the large Amazons to give more swimming space to the fish but left in two of the dwarfs.
Half of the babies have been sold on and new discus have been added so heres a few pics of the residents.
This is one of my babies growing fast
January 2009
The tank has been upgraded since I started it
The aquaone filter has been replaced with a Tetratec 1200, the xp3 is being replaced soon with another Tetratec as well
I have removed the 2 seperate heaters and replaced them with 1 500 watt titanium heater.
Floating plants (Amazon Frogbit) have been added to provide shady areas#
new pics to be added soon!!!!!