In answer to Mick and Jordan's nagging, here is a journal...
My youngest daughter, Emily, announced shortly after Christmas that she would either like a hamster or some fish for her fifth birthday, which falls towards the end of February. Now Emily is a very loving and gentle little girl, and I could just envisage her taking the hamster out of its cage at bedtime and then falling asleep cuddling it. I'm sure our dogs and cat would be highly, if briefly, amused by a hamster wandering about the house. No, of the the two, it had to be the fish.
Now I've secretly always wanted to keep some fish. I can clearly remember back several decades to the tank that occupied the corner of the dentist's surgery when I was young. That tank was the only good thing about going to the dentist; it was stuffed to the gills with Neon Tetras and such like, and generally looked a bit on the green side - you can tell it made an impression, because I can still picture it clearly. My wife had also kept a few fish before I met her, but that was back in the era when you kept a random selection of fish (I clearly remember an Angel in there somewhere) in a small tank and did a 100% water change every month or so (or whenever it got a bit too green). I started doing my research.
I first called into my LFS, which is on my route home from work. The advice was to get a tank, fill it with gravel and water, wait a week and then buy a few hardy fish. If they survived (what did he mean, 'if' - alarm bells started ringing) then we could get a few more fish a week later, and so on. My personal view of the world is to always give the maximum respect to all living things - that 'if' was still playing on my mind. I started doing my research on the global-worldwide-interweb. For a while I wandered around a few sites and fora, before running across this one. At first you seemed a bit offish, as you wouldn't let me read more than 5 things as a guest. I went elsewhere. But for some reason I kept coming back for a peek in here. Eventually I bit the bullet and registered.
Now by this time I'd found out that a larger tank was easier to keep stable than a smaller one and that I should do a 'fishless cycle'. When I tried to explain all of this to my wife she merely shrugged and said it all sounded too complicated - obviously these fish things were to be my responsibility. We finally got to a point about three weeks before the birthday where, if we were to stand a chance of getting any fish for her birthday, we would have to start the tank. Research suggested that a Juwel Rekord 800 was most probably the biggest tank I could afford - problem was than none of my LFS sold them. Further afield, Winchester could get one in in a week, my LFS said something similar, but then I called a shop near Southampton (about an hour away) who said they had two in stock, and the price was better than the LFS were offering. We set out on a mission to buy.
Once home, the tank was put in place on a very sturdy old oak TV unit (tested to see if it would take the 100+kg of the filled tank by my wife and I sitting on it together - a weight notably over 100kg ;-), gravel was washed, water was treated with API water conditioner and we were up and going. I had bought an API test kit from a well known Internet auction site for about 10 pounds less than the LFS were selling them, and some Ammonia from Homebase; a 10ml dosing syringe from the Tesco pharmacist finished the initial kit. I started dosing and monitoring.
The bulk of the fishless cycle was reported in this thread .
Bogwood went in after the first week had been completed.
Plants were introduced about a week before the tank was expected to be ready. I had ordered a selection of 25 from that same Internet auction site I'd used for the test kit. I ordered on Monday, hoping for delivery within the week, but by Friday (two days before fish-day) these hadn't even been dispatched yet. I called into the LFS on my way home and made a pest of myself until the one bod in there who knew one plant from another finally turned up. With his help I picked through their meagre offering, rejecting all of the plants I'd read on here were likely to cause me problems. That is how I came up with the (random) selection of plants that seemed to impress Jordan so much ;-)
Some local flints completed the decor.
Once all of the levels were stabilised at 0.00ppm, on her birthday, we went shopping. With the help of members on here, and with reference to a very handy online aquarium stocking advisor website I'd come across, I had several lists of possibly compatible fish drawn up. We took Emily to the shop, showed her the key players and said 'a few larger, more showy fish' or 'more, smaller, slightly plainer fish'. Ever one to get more for her money, she chose the latter option. We went home with 6 Cherry Barb, 8 Blue Tetra and 8 Rosy Tetra. These were introduced into the tank in stages and daddy then started checking water stats. Everything was perfect - the fish seemed happy and the stats stayed at 0.00ppm! We were there.
Now, when we had bought the fish, I'd bought my own pet fish too. All through the research process the LFS had had just one Spotted Headstander in stock. I was struck by this fish, as its continuous head-down looking-for-food attitude was completely different to every other fish I'd seen. It was still there when we went shopping, so it was now mine. As you will see from the pictures, it's still doing well. I wish I knew if it was a boy or a girl ;-)
A week later I decided that everything was looking so good and the stats were so stable, that I'd break the rules I'd seen set out on here time and again and finish off the stocking list with 4 Julii Cory's - these were so cute compared to the more ordinary patterned Corys that it had to be those. They were introduced on the 27th February and, touch wood, are thriving.
That's enough waffle for now (I have to go off and cook dinner now). Here are some of the latest pictures:
The Tank
Closeup of the centre piece
Rosy Tetras, I'm guessing that's a female in the foreground with males behind. A guest appearance by a male Cherry Barb ;-)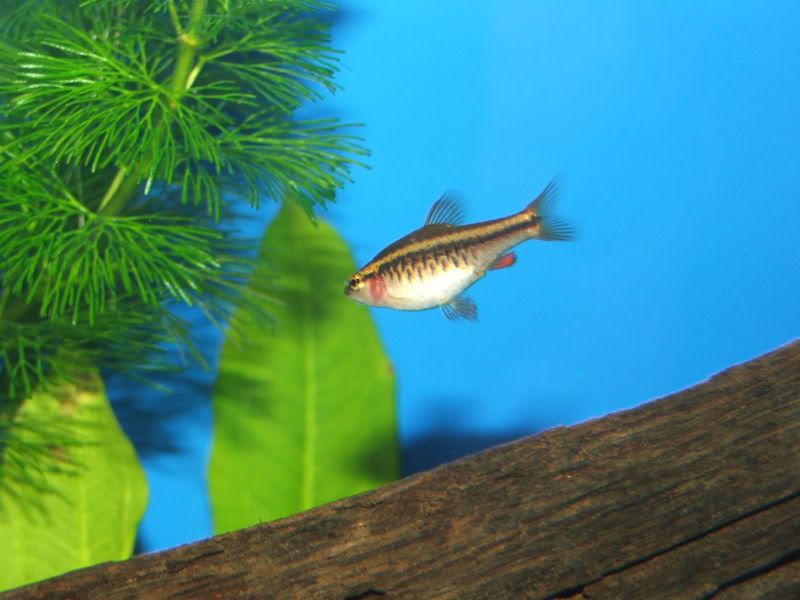 Female Cherry Barb
Male Cherry Barb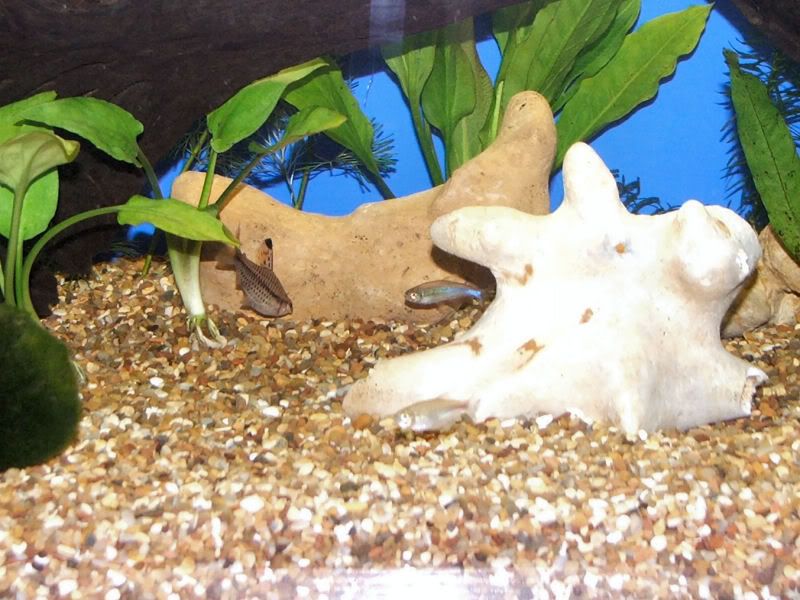 The best shot I could get of a Blue Tet - those guys never stay still! Guest appearance by the Spotted Headstander.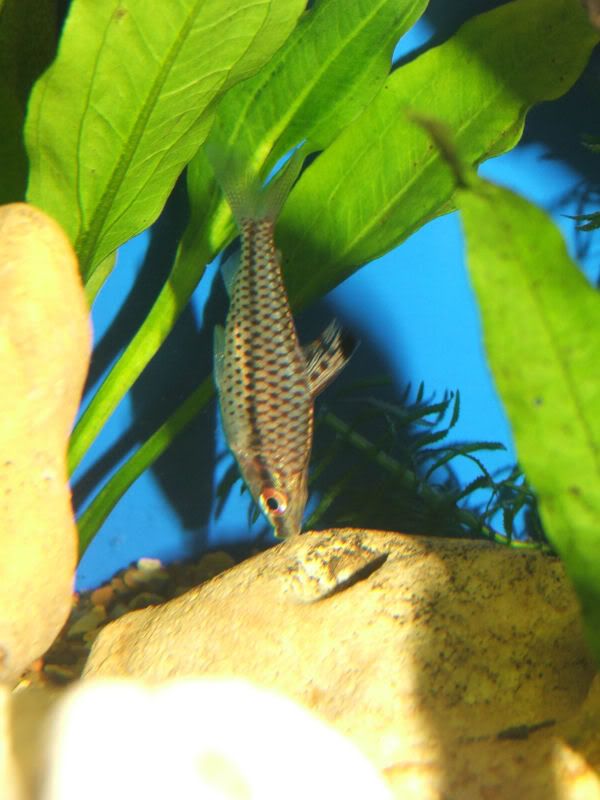 My headstander
One of the Julii Corys