When the female is in full breeding conditions she will fill out across the chest area, the male will start to build a bubble nest and show interest in her. This is when I usually move the pair into a seperate tank. I have written this up the way I succeeded in breeding my gourami, which is not always the way others say it should be done.
A pair of dwarfs, female on the left, male to right. (As you look at them)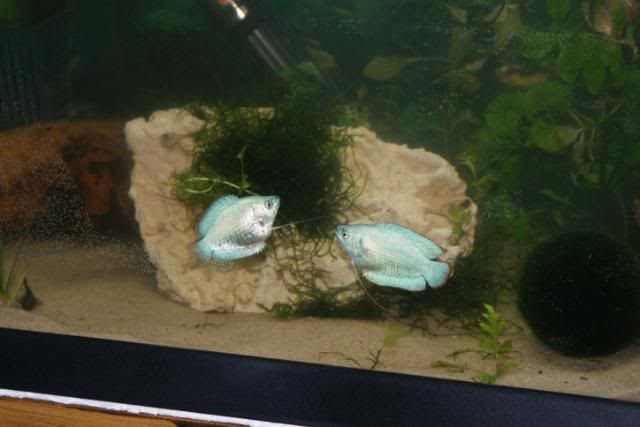 Despite what some think, females are not always dull and drab or silver as that picture proves.
The tank should have floating plants and real plants. It should be fitted with a sponge filter to ensure minimal surface water movement.
Always put the female into the new tank first, give her a couple of hours to a day to settle in before adding the male. The male when introduced will inspect the tank and the female and if he thinks conditions are right he will set about building a bubble nest. He will incorporate pieces of plant into his nest. I do not believe in dropping the water level or raising and lowering the tank temperature, I keep the temperature the same as the fish have been used too. I just use a seperate tank to keep the fry safe from other fish that would eat them.
The male building the nest. I added a frame from a breeding trap to ensure surface water was kept still.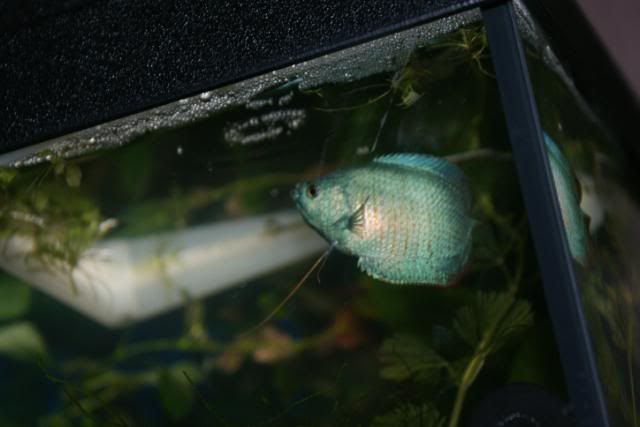 When the male is happy with his work he will start displaying to the female, if she likes what she see's, it is her who will initiate spawning, she will nip his back end telling him she is ready, he will then wrap himself around her and gently turn her over, squeezing whilst doing so to ensure all eggs are released. He will pick up any eggs who do not go into the nest and place them in it. Mating will happen several times, when the female has finished spawning she should be removed from the tank, carefully so as not to disturb the nest.
The male will guard and clean the eggs and nest, adding more bubbles over couple of days. The eggs will hatch between 12 and 36 hours. The fry become free swimming within 2 days of hatching, this is when the male should be removed. Feed the fry liquid foods as they are tiny and incapable of eating anything more for weeks.
I use liquidfry and boiled egg yolk milked through a handkerchief. (the egg route is not an easy option, milking a hard boiled yolk takes time and patience.)
Fry at a week old, do not over estimate the size of these young, they are tiny.
Raising fry is the hardest part, they are tiny and you must be extremely careful during water changes. I feed liquid fry for 2/3 weeks before slowly adding newly hatched brineshrimps and other tiny food sources. Don't try to rush changing from liquid foods to other foodstuffs or you will end up with multiple deaths.
One hint I learned is to using a cup scoop out a little tank water and add the liquid fry to that, mix in the cup and then add to the tank. (I had a bottle of liquid fry split on me and pollute my tank).
Fry at just over 2 month old.
Just over 4 months with one of my other females for size comparrison.