My new thread old tank
Well guy's thought it about time I started a real thread – as tank has been going nearly 20 months..
As I am hoping to upgrade system to 7ft 2 x 2 later this year
Now unfortunately when I joined this forum I had already started the tank conversion & built the stand.. however I will do my best to fill in gaps with desc & photos.
Also since last Oct I've lost all my data collated on corals,Fish & events/new equipment. I've only got photographs so all will be from memory etc.
I have just uploaded 185 images to PB not including what was already on there…
I hear all you picture freaks going yeh yeh yeh pics… we all like pics
The tank is 8 years old (now) converted from a RENA 350 Classic 48 x 20 x 24 approx 77gal
Here's a pick of of the beast
Anyway this is where it still stands..
I started the conversion July 2009 by stripping down the Freshwater set up – at this point I still did not know if I was doing the right thing- (now I know I did)
The stand basically from 2 x 3 pine (CLS) & 18mm thk MDF painted black.
I had never drilled tank before so I watched load of blogs/vids on doing this (simples)
Bought a 38 tile/glass cutter from my second home (B&Q)
Held my breath & cut= was amazed how thick based was 15mm
Anyway originally I built weir from black acrylic & painted back same black..
Pic of original setup
I eventually changed the weir to glass & backed with SBP (sticky backed plastic) for all those who watched Blue Peter
& painted the back blue after scraping old paint off.
Initial sump layout – ps doors or just held on with magnets.
Sump was customised build (Via East Lothian Aquatics Tranent) to fit the stand I had built.. 17 x 17 x 35in 3 main compartments
The original pump I got & still have NJ3000 on the return (now my skimmer pump)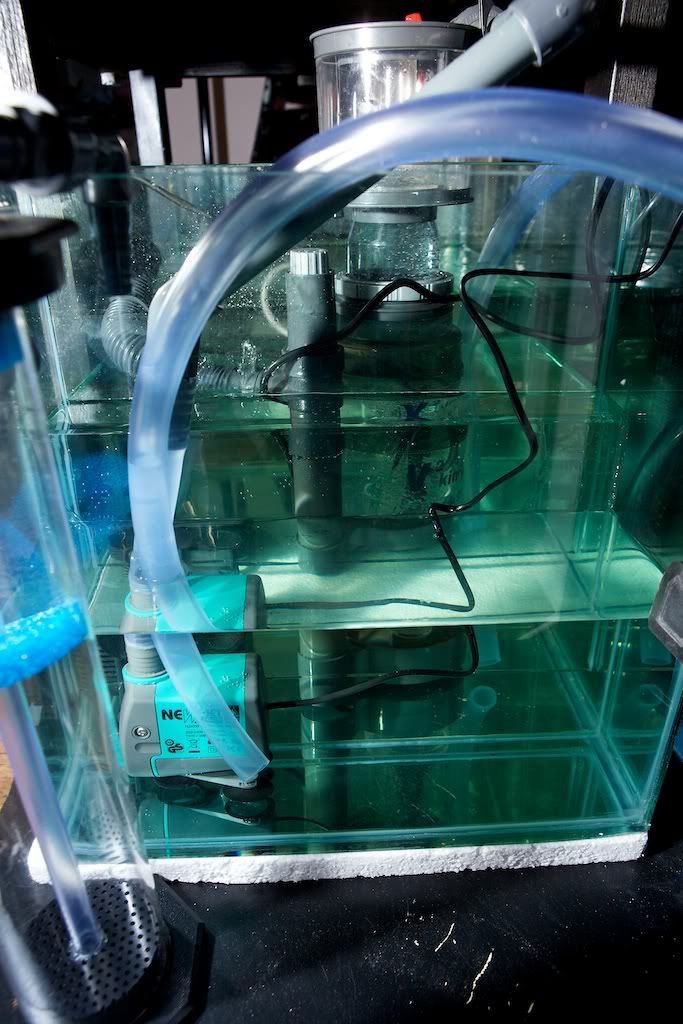 More shots of original sump layout with TMC V800 skimmer, FR509 reactor, TMC 15 UV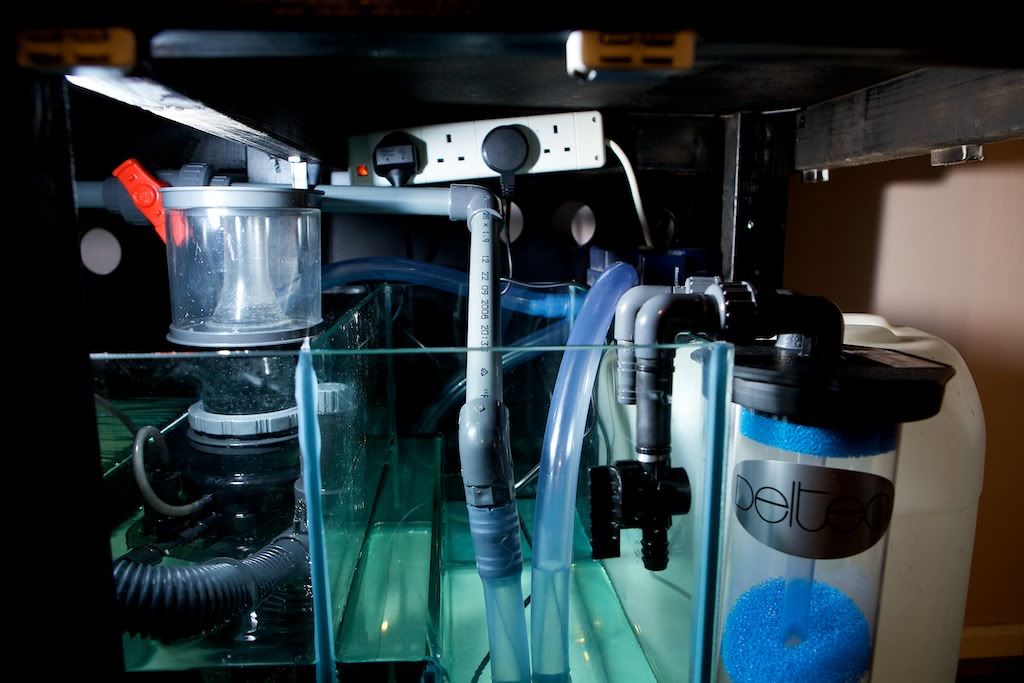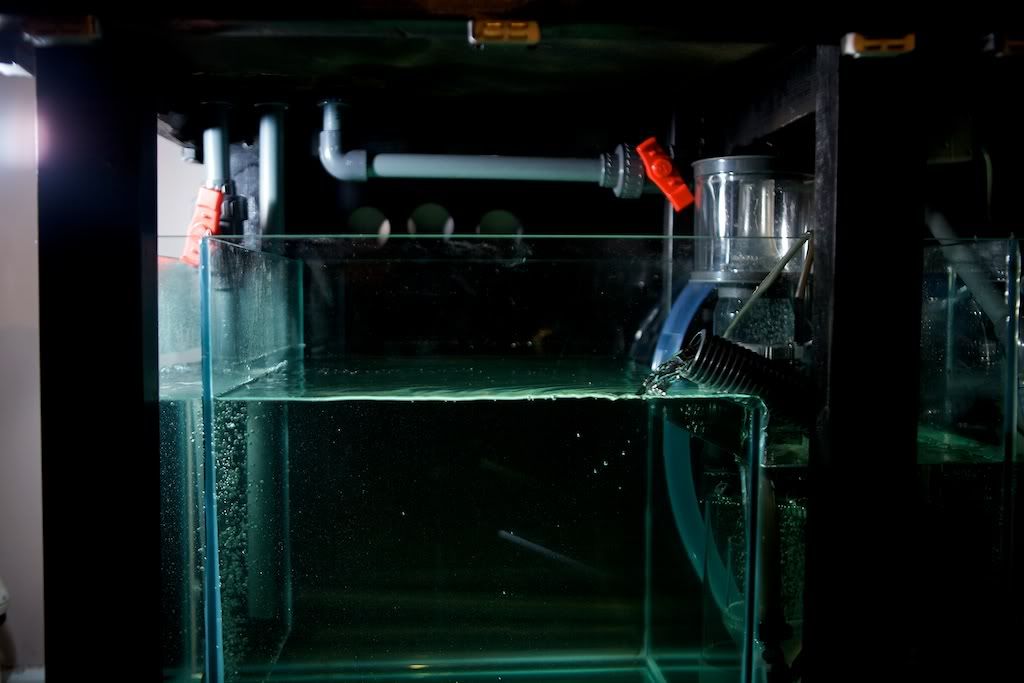 All piping is 25mm from Coral Culture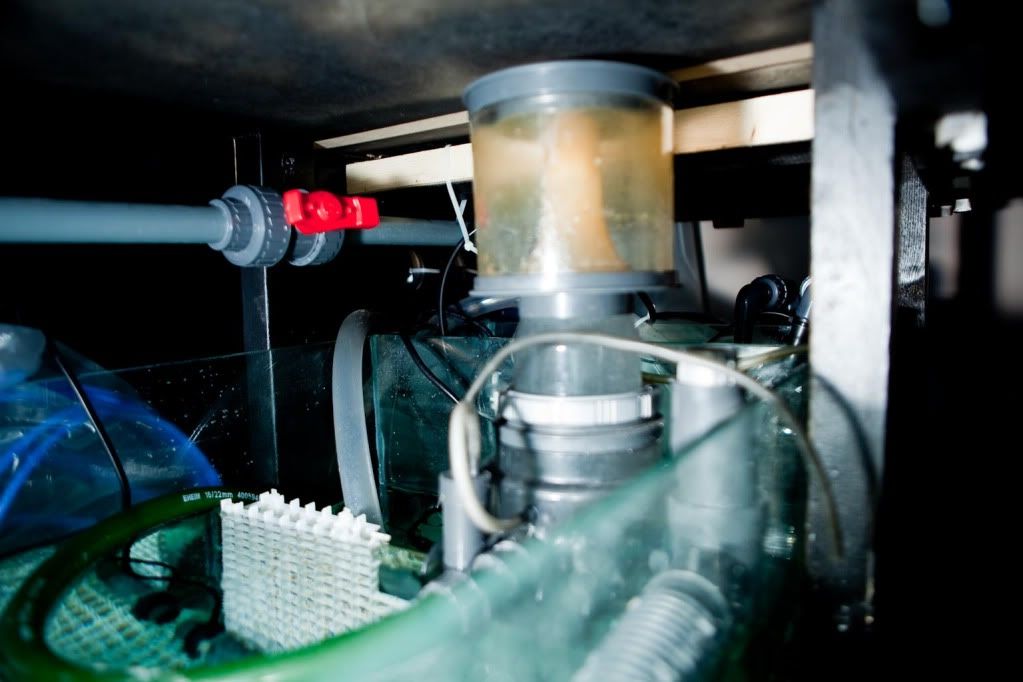 TMC Skimmer V2800 & UV15 now replced by Deltec 2060TC & DD 20watt UV